I am super, super happy, as our contractor, Joe, was finally able to make it over and begin our screened-in deck area. He's still juggling a few other jobs, so he's here when he can be, but the progress is amazing to see. This is what things look like as of today!
Isn't it awesome. I am so visual it's ridiculous, so just seeing the space framed in gives me an idea of the space I have to work with. The most helpful was seeing where the door is going to be, so I can work around that with furniture arrangement, etc. Well, I wasted no time at all, my friends, in starting my search for patio furniture. I know you are probably thinking, what....buying patio furniture in the Fall. Why, yes, it's a great way to save a lot of money...which is always a good thing. So, I got on-line, once again, and began my search. Now, when I say patio furniture, what comes to mind? When I mentioned this term to my hubby, he thought I meant a table and chair set, but on the contrary, I was referring to patio seating, namely a sectional. You know, comfortable outdoor furniture. I love some of these from Pottery Barn, but I didn't like the price tag, and they were on sale!
I believe Pottery Barn refers to this type of patio furniture as "Lounging Furniture". Don't you love the sound of that!
So back to the "hunt". A lot of patio furniture, at this point in the season, is pretty well picked over. I looked at my local Home Depot, but they literally had nothing left, so I found a couple of pieces I liked on-line at Target, as well as Lowes. Both were on clearance, however, the set at Target was just that, a set: love seat, and two chairs. I really wanted a sectional, I feel that those are the best choice for a small space. So, I kept going back to these chairs at Lowes. It's the Allen + Roth Blaney Patio Chair. As I read the reviews, which rated this chair with 5 stars, it sounded like it would be a great addition to my deck! The best thing about these chairs is that they interlock, if you want them to, so you can make a sofa, love seat or use alone. I loved the versatility of this chair. I wish they had a corner chair, so I could make a sectional but I think this will work just fine. So, I called my local Lowes and learned they had 2 chairs left. They were $125 marked down from $250. That's
50%
off! I really want 5 chairs, so I rushed down to Lowes and purchased both chairs. Of course, I had to make two trips as the boxes these chairs came in were rather large, allowing for only one box in my vehicle at a time....and I have an SUV!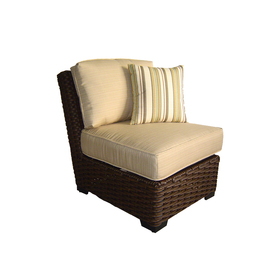 I called around to several other Lowes within my state to find 3 more chairs, hopefully all in the same store. I was successful locating three additional chairs in the Bangor Lowes, which is about an hour from my home. I will need to borrow my father-in-law's truck to pick them all up, but they allowed me to pay for them over the phone, and they will hold them for me indefinitely. I thought that was so nice. Though, I really want to get them sooner rather than later as I always have this fear when I buy something in this manner, that they will go and sell my chairs and I will be left with nothing. So long story short, I should have five total chairs for my screened-in deck area and I'm so excited. The next thing I need is an indoor/outdoor rug, and an old exterior door. Why the door you ask, well I'm going to make a table out of it, when I find the time.
So, always remember, if you buy things you may need a year ahead, at the end of that season, you can save lots! I buy everything this way, well most things, especially clothing for my kids.